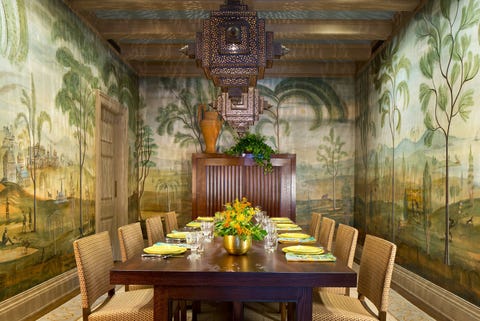 FIND THE RIGHT LIGHTING
Beautiful lighting fixtures can turn a typical dining room into an extraordinary one. Interior designer Paula Grace Halewski believes that lighting brings this room together. "The dramatic chandeliers, with geometric glass pendants that echo the shape of the room, complete the desired feeling of the space—awe," she says. Everything comes together in the space—the shimmering wallcovering, the large artwork, and the eye-catching chandeliers.
"Lighting is hugely important," adds Eberlein. Avoid downlights whenever possible, especially directly over chairs, to eliminate dark shadows on guests' faces. Hang chandeliers low—28 to 34 inches above the table. Create a glow on the perimeter wall by using wall washers to highlight art and interesting surfaces. Introduce as many eye-level light sources as possible like sconces.
INCORPORATE BELOVED ITEMS
Reuse or repurpose beloved pieces from a previous space—whether it's a piece of art, an inherited furnishing, or antique decorative items. "Begin with personal items," says Ellen Nystrom of Nystrom Design. "It's important to design a space that makes the host feel at ease so that they can extend that feeling to their guests." This room features vintage Danish Kai Christensen chairs, which had previously belonged to the homeowners, but have been reupholstered to fit the new space.
MIX & MATCH
Mix and match furnishings, lighting, or artwork to give your space a creative style. "Mismatched furniture just makes everything better," says Fisher. "It's less expected and creates interest, especially when the patterns are so different." In this space, six neutral dining chairs are contrasted by two zebra print armchairs.
SHOP CUSTOM FURNISHINGS
Ensure that your space is unlike any other when you use custom furnishings. A one-of-a-kind table or unique chairs will help a dining room stand out. The custom, live-edge wood table is the focal point of this space. "The floor plan of this house is very open and the dining table is truly in the heart of the home," says Lisa Hershman of Abaca Interiors. "The live-edge Chamcha wood slab and brass legs provided a contrast that united both their styles and truly made the piece feel unique to the home."